Commercial Garage Doors - Gold Garage Door
Welcome to Gold Garage Door, your premier destination for top-notch commercial garage door services in Los Angeles and surrounding cities. At Gold Garage Door, we understand the importance of a fully functional and secure garage door for your commercial property.
We specialize in providing comprehensive repair, maintenance, and installation solutions for commercial garage doors of all types and sizes. Whether you need prompt repairs for a malfunctioning door, routine maintenance to ensure optimal performance, or a brand-new installation, we've got you covered.
Our experienced technicians are equipped with the latest tools and techniques to address any commercial garage door issue efficiently and effectively. Rely on us and don't let a faulty or outdated commercial garage door hinder your business operations. 
Commercial Garage Doors SAFETY TIPS
Do You Need To Commercial Garage Doors?
Knowing when you need commercial garage door service is crucial for the smooth operation and security of your business. If your commercial garage door is exhibiting signs of wear and tear, such as squeaking, malfunctioning, or slow operation, it's a clear indication that it requires repair or maintenance. Additionally, if your garage door is outdated and no longer meets the needs of your business in terms of security, efficiency, or aesthetics, it may be time for an upgrade.
In the case of such needs, it is crucial to seek the assistance of a reliable and experienced commercial garage door service provider like Gold Garage Door. We specialize in commercial garage door installation and repair, catering to the specific requirements of businesses in Los Angeles and surrounding cities.
Our team of certified technicians will assess the situation, diagnose the problem, and provide appropriate solutions. Whether it's a minor repair, major overhaul, or complete door replacement, we have the expertise to handle it efficiently.
Don't delay when you need commercial garage door service.  At Gold Garage Door, we prioritize quick response times to minimize disruption to your business operations. Our dedicated team is available 24/7, ready to address any emergency garage door needs you may have. 
Benefits You Can Earn By Hiring Our Professionals
When it comes to commercial garage door services, choosing Gold Garage Door is an excellent decision. Our commitment to excellence and client satisfaction sets us apart from the competitors. First and foremost, our team consists of certified technicians who specialise in commercial garage door repairs, installations, and maintenance. 
With their extensive knowledge and expertise, you can trust us to deliver top-notch service and ensure the optimal functioning of your commercial garage door. We understand the importance of quick turnaround times for businesses. That's why we prioritise efficiency without compromising on quality. Whether you need emergency repairs or routine maintenance, we will promptly address your needs and minimise downtime for your operations.

At Gold Garage Door, we offer competitive prices that cater to businesses of all sizes. We believe in transparent pricing and providing value for your investment. Our goal is to deliver high-quality services while staying within your budget. Choose Gold Garage Door for your commercial garage door needs in Los Angeles and surrounding cities and experience our dedication to exceptional service, expertise, affordability, and reliability.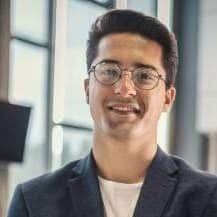 Freddie
Finally! A local garage door business that is dependable and trustworthy. We had previous bad experiences with garage door servicing and costs. However, their technician arrived on time and clearly understood what he was doing. Gold Garage Door Repair will be our new go-to for any garage door-related needs.
Get a transparent and fair quote for your garage door maintenance needs. Our team at Gold Garage Door provides accurate estimates, ensuring you have a clear understanding of the costs involved.